Salam Sejahtera dan Salam Satu Malaysia,
Sebagai seorang guru, pengajaran dan pembelajaran bagi isi dan kuku. Guru mengajar dan murid belajar adalah sepatutnya berlaku dalam proses PdP. Namun ada kalanya situasi tidak dapat mencapai objektif sepenuhya. Lebih-lebih lagi bagi menghadapi cabaran murid abad ke-21, saya berasa sebagai seorang guru kita seharus berubah ke arah lebih inovatif.
Saya pernah menghadapi situasi kelas di mana murid-murid agak bising dan tahap pencapaian akademik yang rendah dan selalu lambat masuk makmal kimia. Pada satu ketika saya hampir-hampir putus asa dengan kelas tersebut. Pada masa yang sama saya juga mengingatkan diri saya supaya tidak cepat mengaku kalah.
Bagi mengatasi masalah tersebut saya telah mengadakan satu aktiviti PdP yang melibatkan semua murid yang bekerjasama dalam kumpulan untuk melengkapkan cerita bagaimana 'sodium chloride' terbentuk. Murid-murid dibahagi kepda dua kumpulan besar dan setiap orang diberi tugas untuk menghafal satu ayat dalam pembentukan 'sodium chloride'.
Team Work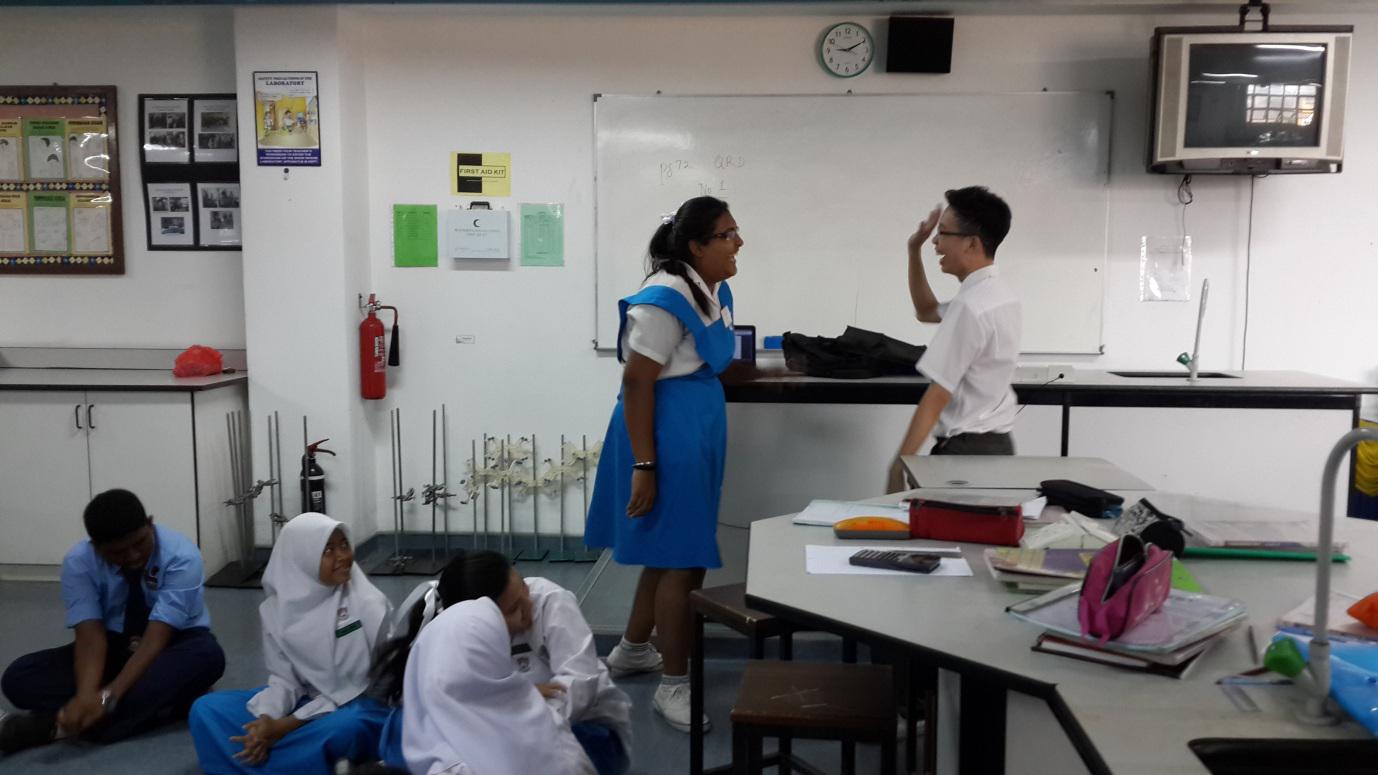 Persiangan sihat
Akhirnya saya telah nampak hasil perubahan di kalangan murid dari segi tingkah laku dan juga pencapaian mereka. Mereka sayang antara satu sama lain dan tidak lagi datang lewat ke makmal kimia.
Melengkapkan cerita….saling membantu ahli kumpulan
Gembira kerana kerjasama membawa kejayaan
Selain sedikit perubahan kedudukan murid, saya telah merancang PdP untuk membentuk keyakinan diri untuk menguasai kemahiran manipulatif alatan sains seperti pipet dan buret. Pelajar dibahagikan kepada 6 kumpulan dan diberi peluang untuk memahirkan diri tentang penggunaan alatan sains. Murid-murid berinteraksi, berkerjasama dan saling bantu-membantu antara satu sama lain. Dalam proses ini, keyakinan, kerjasama, menghormati, kasih saying telah dapat kelihatan dikalangan murid-murid.
Confident enhanced leadership
Confident enhanced leadership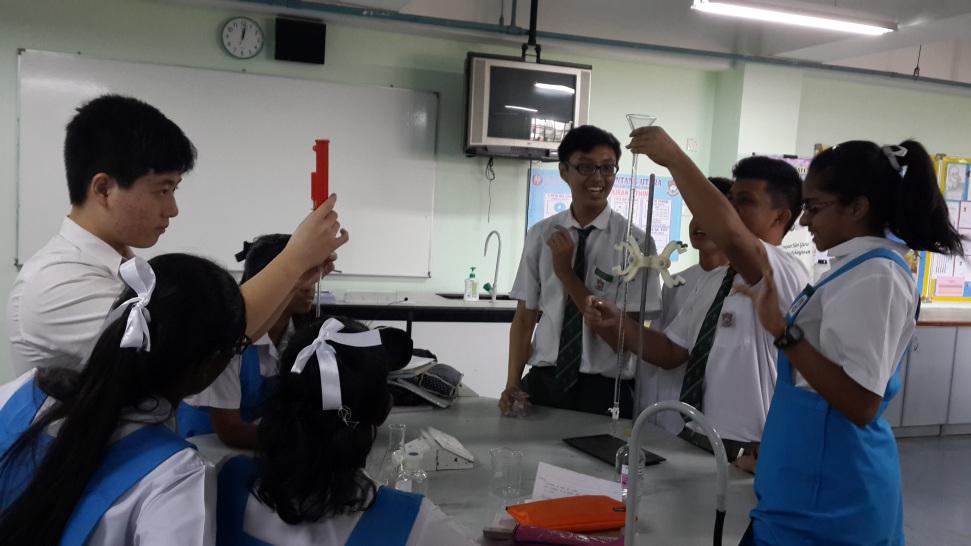 Learn and fun through team work
Sharing produce leadership, knowledge and friendship 
Terima kasih kepada Global Peace Foundation, Cik Fong dan pasukannya kerana telah memberikan motivasi dan idea untuk menghadapi cabaran 'Transformasi Kelas Abad ke 21'. Saya berminat membantu rakan-rakan lain membuat transformasi kelas ke arah PdP yang lebih seronok dan kreatif supaya memenuhi kehendak murid Abab Ke-21.
Dikongsi oleh,
Lee Saw Im
Guru Cemerlang Kimia
SMK Seri Bintang Utara, KL
14 February 2014