We organised a Teacher Empowerment for School Transformation (TEST) Educators Retreat for 60 district education officers from Pejabat Pendidikan Daerah (PPD) Timur Laut, Penang, in collaboration with Edvolution. Themed "Rekindling Our Passion, Transforming Our Schools", the retreat – which is the first they have attended together – provided an opportunity for these officers to get to know themselves and their colleagues on a deeper level, strengthening their bond and resolve to be the catalysts for school transformation.
The retreat was filled with engaging, interactive, and experiential activities over a period of two and a half days. Find Your WHY is a self-discovery session where these officers shared the purpose and motivation that drive them to become educators. One of the officers shared a story about a former student who bought him a bouquet of pens on Teacher's Day as a symbol of gratitude. Although it was a small gift, he cherished it, and it's a memory he often thinks back fondly on.
There were teambuilding games that required everyone to work together to complete. At the sandwich-making station, participants had their hands strapped together. The challenge was to build and eat a sandwich within the given time limit. We won't reveal just how they managed to conquer this obstacle, but every team managed to complete this challenge, which proves the strong bond and teamwork that they are capable of.
The Peace-making Circle allowed participants to get to know each other on a more personal level. Everyone had a chance to speak and be heard, and this created a deeper understanding of each other as human beings, and not just colleagues at the workplace.
Anbu Chelian A/L Soundarajan
School Improvement Specialist Coach (SISC+)
"I had so much fun learning and discovering myself along with my groupmates. This retreat has strengthened our relationship as colleagues, and seeing them as people beyond just fellow educators, each with unique identities as well as strengths."
Tan Phaik Leng
School Improvement Specialist Coach (SISC+)
"My favorite session is Strength-Finder, as it gives me the rare opportunity to sit down and think about my true strengths, which I can further utilise to help the teachers to maximise their potentials."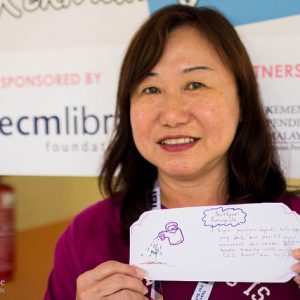 Rafidah Binti Othman
Information Technology Officer with 18 years of teaching experience
"This retreat has rekindled our passion as educators, because with the new challenges faced by educators, going in and out of the classroom just to teach won't produce high quality students. Passion has to come through so we would be able to nurture students with great character and competitiveness."
We would like to thank Edvolution, ECM Libra, and PPD Timur Laut for their support, dedication, and commitment in making the TEST Educators Retreat 2018 a success.
Written by
Yong Joy Anne, Storyteller