Halloween is a celebration of the unknown, the unfamiliar and fear. At Global Peace, we believe fears must be faced in order for us to go beyond uncharted waters and have the perseverance to deliver greater good.
In conjunction with Halloween which is a celebration of the unknown, the unfamiliar, Global Peace recognises that education is not an easy task and it cannot be done alone, this episode featured guest speakers that are revolutionising teaching through their service and efforts.
Learning comes from the conscience of teachers.
Teach For The Needs (TFTN) embarked on a journey with the idea of giving opportunities for less fortunate who do not have the ability to attend extra tuition. Zul Fikir Zamir, founding chairman of TFTN and a teacher with a conscience, who wants to make a difference.
Far too many children are deprived of access to education in the nation. Teach For Malaysia (TFM) promotes fair chance to education despite origins and social status.
Muhamad Safwan is a fellow of TFM who despite all that he has achieved in life, felt teaching resonates with him the most at this very moment.
Society has been too complacent when it comes to service. Service should not be seen as an insurmountable task but a noble mission. James Anthony Froude said that, "fear is the parent of cruelty" and this illustrates our society.
Let us dive into the world of teaching with the two passionate educators as our guide.
(i am a divider)
As a teacher by profession for five years and counting, Zul chose to follow the footsteps of his family and relatives by going into the education field – it was a natural and obvious decision for him. During his first year, he couldn't stop questioning himself as a teacher.
Coming from this kind of background, he is well aware that changing the system would be almost impossible.
However, he has never given up. He decided to gather his fellow peers – nineteen graduate teachers – and founded Teach for the Needs (TFTN), a non-profit that gathers youth volunteers to provide education outreach, services and equality for orphans.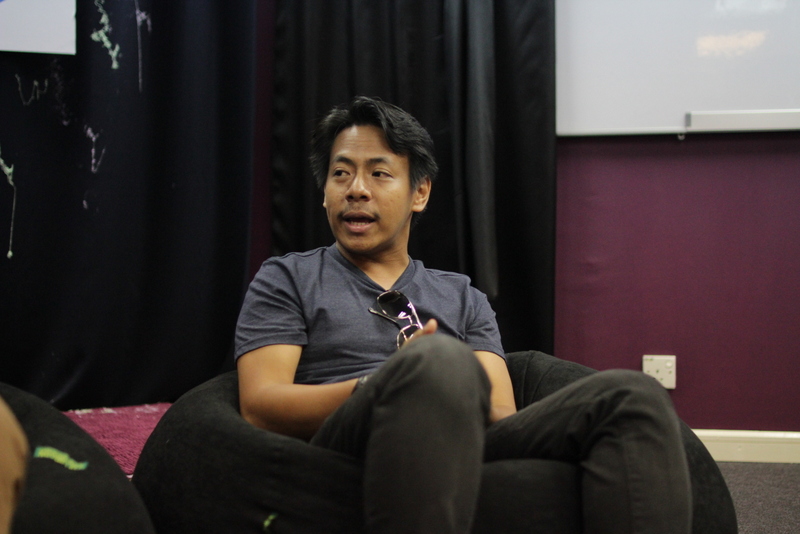 "You have to watch this movie, Taare Zameen Par. He teaches us the difference between autistic children and children without autism. It made me realise that the real problem in schools are the teachers, not the students!" exclaimed Zul, as he shared the source his revelation with us.
As a young lad in his early twenties who is a mechanical engineer, Safwan was always on the look out for a greater purpose in life as a result, he ventured into various fields during his semester breaks to find an answer.
His purpose and answer then became clear to him when he met Teach for Malaysia (TFM).
Through his volunteering experience with TFM, he discovered that the standard of English in urban areas are not up to par and it was something that worried him.
However, being new to the field, their abilities as an educator were always questioned. Having their hands tied and voices muted, Zul and Safwan have been through challenges and trials as they worked their way up. But they kept a strong resolve and overcame the obstacles faced along the way.
Coming from two sides of the same coin, Zul and Safwan have been through challenges and trials but they were prepared for it as they knew were getting into.
(i am a divider)
Zul was blunt and made it clear managing a non-profit was never easy, and funding is a common problem among non-profits. TFTN has recently staged a theatre festival to raise funds and has a plan "Wakaf Buku"- to build 10 libraries across Malaysia which are free for all.
Many may think donating old learning materials are helpful but it is not. Hence, TFTN's efforts in engaging publishing companies to donate up-to-date learning materials as a booster to the less fortunate.
Safwan has the upper hand coming from a different background as he comes into the field with a different perspective. As a result of it, he comes up with innovative engagement methods to motivate his students.
One of his many methods is to dress up as different historical characters to make his subject, history, interesting and engaging for the students.
He invented the Scholar Dollar, as a way to motivate students to be attentive and participative in class. It is a point system to reward students based on good deeds collected.
In support of his efforts, he asked his peers from around the world to send his students encouraging postcards that he shares with the class. He believes that by doing this, it will bring out the students' innate curiosity to learn about the world.
Although Safwan has full support from his peers, his family said otherwise.
"My dad didn't understand," Safwan said when asked about how supportive the people around him have been. He even added that the only person who supported him throughout it all was his mother.
But as the saying goes, when the storm ends a rainbow will appear and appear it did for Safwan because his hard work and dedication did not go unnoticed and soon he had his family's support.
For Zul Fikri, he admitted that teaching wasn't his passion until he started teaching. He realised that the ability to teach was something that came from within and the students will see it if you have that spark in you.
Education is not an individual responsibility but a collective effort, Zul hopes there will be more innovative educators coming together to fill the existing gaps.
(i am a divider)
Zul and Safwan share a common ground which pushes them beyond unchartered waters and dedicate their expertise and passion in giving each of their students the attention they deserve. In return, they build an altruistic culture of learning in their respective realms.
Both were in agreement that showering the kids with love help builds a healthy relationship with them and this is a prerequisite in getting them motivated for a better learning experience. (Grades will come after /winky face)
It's easy for teachers to get burnt out as they are required to play many roles, but with a smile, they agreed that giving up is not an option because there are still so much to do for these children.