Malaysia went through a heatwave from February to March with temperatures soaring to a sweltering 40°C in certain states. The hot weather caused dam levels in Johor and Kedah to dip to critical levels, with the possibility of water rationing sparking concerns.

While we urban folk are able to make it through the hot weather by retreating to the comfort of air-conditioned rooms and staying hydrated by drinking lots of water, there are people out there in water-scarce villages that do not have this luxury, whose lives are in peril as they watch their wells dry up day by day.

Water Poverty Worsens Amid Drought

Pahang is one of nine states put on Level 1 heatwave alert by the Malaysian Meteorological Department. Many of the villages that we work with in Pahang around the Muadzam Shah and Chini area were severely affected as well.

On our last visit there in mid-March, villagers reported that the water in their wells and ponds have drastically decreased. With little rainfall in between to restore the water level, they are worried about running out of water should the drought persist.
Most of the villages with their own wells rely on a fuel-powered pump to draw water out. We found out from Jelita, Kampung Jenit's tok batin (village head), that their pump has broken down and they have been walking to the well to fetch water with pails and containers.

As men are away for work during the day, it falls on the women to bear the burden of fetching water. On average, women walk 6km to fetch water, carrying up to 25L a day (United Nations). An already exhausting task, it is made even more draining with the stifling heat and sun beating down their backs.

Clean Water Solution Keeps Villages Surviving

Nordin, who stays in Kampung Cerampak, shared his concerns with us when we visited him. "See how low our water is," he points to the bottom of the well. A brownish ring around the inside of the well indicates where the water level previously was. There was at least a six feet difference.
Nordin tells us that the water has become yellowish since the drought started a few weeks ago.

"Thankfully, we still have enough water for the village. Without this well, we would have to go to town to buy water, ask neighbouring villages for water, or go far and wide to find whatever swamp or pond there is left."
Kampung Cerampak is one of the communities that have benefited from Laneige's Waterful Sharing Campaign 2018. Since 2016, Global Peace has been working with Laneige to empower Orang Asli communities by developing better health and sanitation in these villages through the provision of clean water.

A well was built in Kampung Cerampak and a pump draws water out to pipes that lead to communal water tanks close to the villagers' houses. It has made water more accessible and saves time and energy for the women who used to walk to the old well downhill to fetch water.

As part of the clean water campaign, each house in Kampung Cerampak also received a Lifestraw Family 2.0 water filter. The Swiss-designed LifeStraw filters are approved by the World Health Organisation (WHO) and remove up to 99.9999% of bacteria, protozoan parasites, and viruses, and filter out particles larger than 0.02 microns. It is portable, easy to use and maintain, and the filtered water is safe to drink even without boiling.

"If we didn't have the filters, I'd be scared to drink this water," says Nordin. "The filtered water is clear and tastes like mineral water. At least we have one less worry on our minds."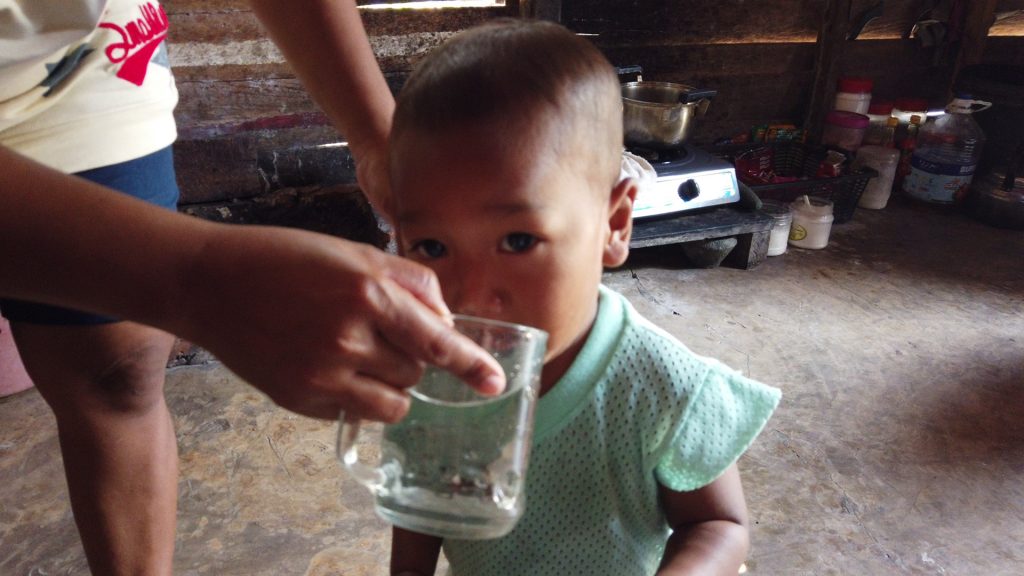 Leaving No One Behind

The underserved Orang Asli communities are in a constant state of struggle. Each day presents another challenge; "Where do I get water?", "Do I have enough money to buy fuel?", "How do I keep my children in school?", "Where will my next meal come from?".

Through our clean water initiative in collaboration with partners, we have impacted over 43 villages by making water more accessible, providing access to clean drinking water, and raising awareness of hygiene and sanitation habits that help to improve health. However, clean water is only the first step.

When a community is freed from the waterborne and water-washed diseases plaguing them, their health gradually improves and they are able to be more productive economically. This is one of many issues that have to be tackled in order to empower the Orang Asli community to lift themselves out of poverty.

The importance of sustainable development is ever more apparent in the face of these disparities between the marginalised and the rest of society. In line with United Nation's Sustainable Development Goals 2030, continuous and sustainable efforts should be made to support and develop the Orang Asli community.

As we race towards a rapidly-developing world, let us take action and advocate for human rights so that no one gets left behind.
Written by
Yong Joy Anne, Storyteller