Global Peace Volunteer is one of Global Peace Festival – Malaysia's most highly anticipated projects. It encompasses the youthful exuberance of the Generation Y with the mission of unifying people from various backgrounds as One Family Under God; an inculcated motto whose repetition became second nature throughout the transboundary 3-day workshop. This year's event, however, was to be bigger and more meaningful than previous editions as it came the wake of the confounding disappearance of flight MH370.
The usually high-definition social boundaries of ethnicity, race, religion, and nationality were blurred beyond recognition as the participants would come together as one united and loving family galvanized by a shared sense of community and empathy  for those most affected by the unprecedented occurrence. This unity made the event a success on so many levels as compassion and teamwork flowed through the exercises seamlessly and catered for the perfect foundation for the notions of peace, harmony, love, and unity to flourish.
From the initial sense of bind unknowing to the eye-opening sense of wonder, from the first dinner as a gathering of individuals to the proverbial last supper as a family, from the simple yet intricate meaning of the puzzle games to the back-breaking climb of Broga Hill, participants and facilitators alike grew through a maturation of self-awareness, expression and thorough exploration.  It was an event whose impact will last a lifetime and whose influence will spread throughout this generation like a wildfire.
The Facilitators
"We as human beings need each other in our lives to help and guide us. Wisdom and maturity do not come with age but with knowledge."  –    Kayrina Shaikh Abdul Karim Yamani, Facilitator for 'The Avengers'
"When I look back, I realise that not only had my team changed, but I also had changed. I am now more comfortable and confident with myself."-    Nor Azrena Ahmad Tarmizi, Facilitator for 'The Blizzard'
"They taught me the meaning of true friendship; that you do not have to be pretty or smart to make friends with people, what you need is a pure, beautiful heart."-   Fatin Fatinah Shamshul Bahrn, Facilitator for 'The Spice'
As facilitators assigned to oversee the welfare of a group, these individuals were in an enviable position to both learn and impart wisdom. The panoramic view offered facilitators the chance to understand how different personalities shined and others waned given a host of challenges that were used to personify these traits. In some cases, it was actually the facilitator who needed the team to help her through one of the more daunting challenges of the camp, the hike up Broga Hill.
"Before, I thought it was my job to care for them and look out for them, it never crossed my mind that they could care for me as well." As Kayrina struggled to navigate the treacherous terrain, her team was there with her every step of the way, helping her reach the summit with a champion's determination.  "They did not abandon me when I told them to keep going, they stayed with me and made sure we arrived together as a team." This epitomised the essence of the Broga Hill challenge; team building, patience, perseverance and overcoming personal barriers that seem insurmountable as an individual with the all-conquering wrecking ball that is teamwork.
The Participants
"When I first came, I did not think that I was going to be very attached to each and every person at the camp, but each and every person changed something within me." –    Nahla Omer
"Thanks to this workshop, I got to know people from all around the world and I am extremely happy." –    Fateha
"I felt like all the concepts instilled were 'brand new' to my old brain." –    Amirah
[wowslider id="18″]
Some joined just for the t-shirt, some joined to have a good time, some joined to make new friends, and some joined simply to get away from the mundane routine of academic life. But, regardless of how and why they came, none of them left the same. They were challenged by the leaders of the camp to "be the change they want to see in the world."
Through a series of presentations and events ranging from the inspiring story of Ryan's Well, the heart-warming successes of Midnight Football to the comical skit performance and puzzle games, the participants engaged in team-building exercises tailored to bring them out of their comfort-zone, or better yet, expand it even further. Unprecedented friendships were formed where it once seemed impossible as people from as far Sudan, Zimbabwe, Pakistan, and Bangladesh all participated and contributed to the workshop in their own special way. New talents were also brought to the fore while old ones we solidified.  For the participants, GPV was educational, inspirational, tear-jerking, character testing and barrier breaking. It was a chance to tear down the walls built by ignorance and replace them with the knowledge they need to embrace the notion of global peace.
Heart-to-Heart

The heart-to-heart session was a downhearted and sombre experience where the participants were given the platform to share their life-stories initially with a partner and if they so wished, with the entire group. The room was illuminated by candles that set the mood for what would prove to be the most impactful event for most participants of the 2014 GPV camp. Little by little, the participants opened up and told each other about some of the trials and tribulations that they had gone through.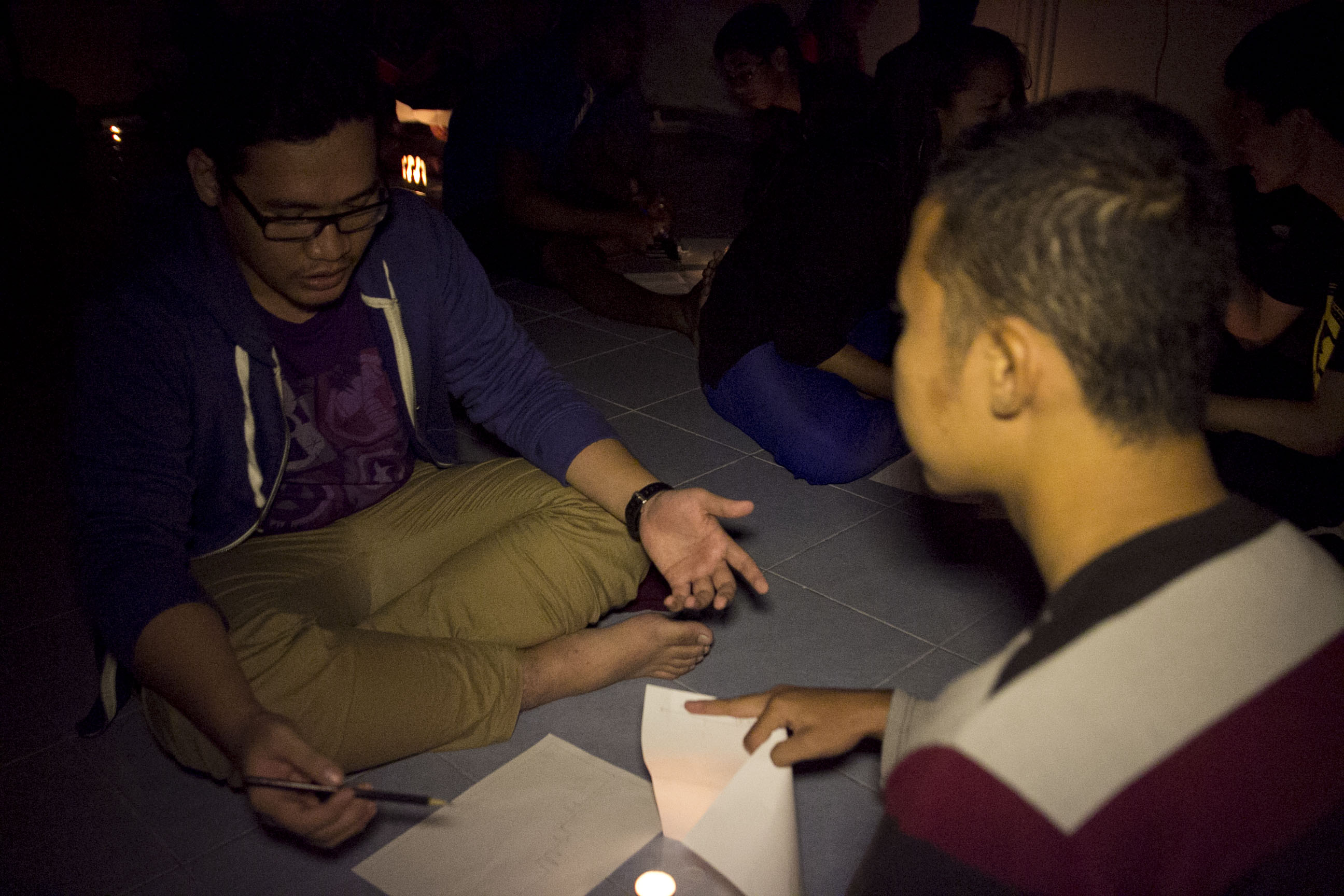 For some, it was therapeutic, a chance to let go of the demons that had haunted them for so long. For others who were more reluctant to share, it was a reminder to be grateful of what they had and to always smile even when it seems most unfitting. Tears were hidden by the dark, but an unmistakable silence and sense of calm would grip the room every time someone would speak. Some told passionate stories of broken homes, while others shared stories of unfortunate life events. Whatever the case, they came from the heart and poured out of them like the mouth of a river.
But what was amazing about each and every person in that room that night was you could never tell just by looking at them that their lives have been so turbulent. Everyone carried a smile, everyone tired to inspire others to smile. It was a powerful lesson in and of itself. As the lights were suddenly turned back on, participants (and leaders) could be spotted slyly wiping away tears from their eyes, though there was little that could be done to hide the effects of the heart-wrenching experience. It was an experience that will surely live long in the memory of all who were there.
Community Service
The community Service represented the overall theme of this edition of the Global Peace Volunteer Camp.  Its goal was to instil and inculcate a culture of change that would allow the participants to realise that in order for us to attain global peace, the burden falls upon us to take the first step. We must 'be the change.'
Initially, most teams found it difficult to get going as the fear of the unknown cast a gloomy shadow over them. But, with time, and with a little push here and there, every group found some way to contribute to the local community. Some helped out in restaurants, while others catered to the elderly and others still cleaned up open spaces that had been abandoned and left as rotting dump-sites. Others simply (yet very brazenly) sought to give everyone they came across a simple gift, a smile.  No matter what each group did, it was an unforgettable experience that created a sense of awareness of how a little gesture can go so far in the attainment of global peace through love and care.
Through Global Peace Volunteer, GPF emphasizes the notion that though we may seem different based on our race, religion, nationality and ethnicity, we are in actuality all the same, we are all One Family under God. The camp bridged these social constructs and allowed participants the opportunity to bond and create lasting relationships solidified by the team challenges and experiences that they would have gone through during the camp. Through the personality test, they learned more about themselves and their peers.
They attained knowledge that they can use to better understand different situations and determine how best to adjust to the people around them. Through the Broga Hill Hike, they learned the power of teamwork and how words like "I can't do it" are figments of their imagination that they use to hold themselves back from their true potential. Through the presentations on Midnight Football, Ryan's Well, and Learning from Disneyland, they learned that no challenge is too big as long as you are driven enough to achieve it. Above all, the camp reminded us all of the need to stay united as one people and one family, no matter the circumstances, and no matter the challenges. We are one family under God.