Back in mid-April, five of us went on a trip to Muadzam Shah, Pahang to visit the orang asli communities there; Kampung Padang, Kampung Dungun, and Kampung Pecah Bateri. We spent the night in Kampung Padang in the middle of an oil palm plantation to better understand the lifestyle of the people here. 
Dr. Teh:
The idea of camping out in an orang asli village came about during one of our trips. Before this, we always had to leave the village before it gets dark as there is no electricity thus no street lamps to guide our way out. But, I always wondered what do they do in the evenings and how do they start their mornings.
I am glad my team didn't object when I raised the idea for this trip, and I have them accompanying me in this adventure. We did not decide on where to camp that night and whether there is water source or toilets. Everyone did not know what to expect.
For me, the challenges were having no water to shower after a blazing hot day working in the plantation to set up a water pump and tank. The village was pitch dark so anyone who is scared of darkness would have a hard time there.
Aside from that, we got to visit one of the houses nearby our tent, and we chatted with the family there for about an hour on how they spend their evenings. They burned palm kernels in a small container for light and the whole family gathers around for a chat before they go to sleep every night. Some would munch on sireh (betel leaf). The kids would play with a baby squirrel that they keep as a pet.
Besides getting to know the villagers' lives better, the marvellous starry sky was one of the best rewards during our camping adventure.
Nisa:
One of my best moments spending time in Muadzam's orang asli villages was in Kampung Dungun, where we got to sit down together with the villagers. We talked about a wedding that was going to be held the next day in the village. The wedding custom is quite simple, where parents of the groom-to-be will visit the bride-to-be's parents to discuss their intention to marry their children and come to an agreement. Albeit simple, their family knot is strong and members of both sides of the family came a day earlier to help out with the wedding ceremony.

We were lucky to be able to see the feast the next day, and at the same time had our focus group with the villagers. They saw for themselves how LifeStraw Family turns the muddy water from their pond into crystal clear water. I drank the water myself to show them that it tastes clean and is safe for drinking. The expression on their faces when they tried the clean water was priceless! I was delighted to see them happy, and look forward to see more happy faces when we bring them the filters on our next visit!
Fiona:
"Lower your expectations" is something I am always reminded by Dr. Teh about. Yet nothing could prepare me for our experience in Kampung Padang. Without a place to shower, wet wipes was our only option. Sleep was bare despite how tired we were, thanks to the cackling of the roosters at 1AM; this continued to go on till seven in the morning. You can imagine how exhausted we were after such a night! But that didn't deter us or slow us down as we continued to explore surrounding villages later that day. Listening to the plights of the villagers and their issues with basic necessities such as water, electricity, and education reminded us about our purpose of existence, which is to help them – that is always our driving fuel. This is why I continue to look forward to every visit we make to the kampungs. I am reminded of my purpose here.
Taqinah:
The most challenging part of the trip was there being no toilet facilities. For us city folk, it's such a normal part of life that it took me by surprise when there was none in the village. I think all of us learned a lot about village life from that experience.
I was touched by the warm welcome given to us by the villagers. That night, we had a cosy candlelight (firelight) dinner together and everyone was just talking, laughing, and enjoying a nice meal. After dinner, we spread out on the mat and just looked at the stars for a long time. At that moment, I felt like each of us was connected even without the need for words. I think I will forever remember Dr. Teh's obsession with capturing a shining diamond in the sky. He was very excited with his photo and showed all of us several times.
Editor's note: Here's the photo of the night sky from Dr. Teh's phone. We'll let you be the judge of what exactly he managed to capture.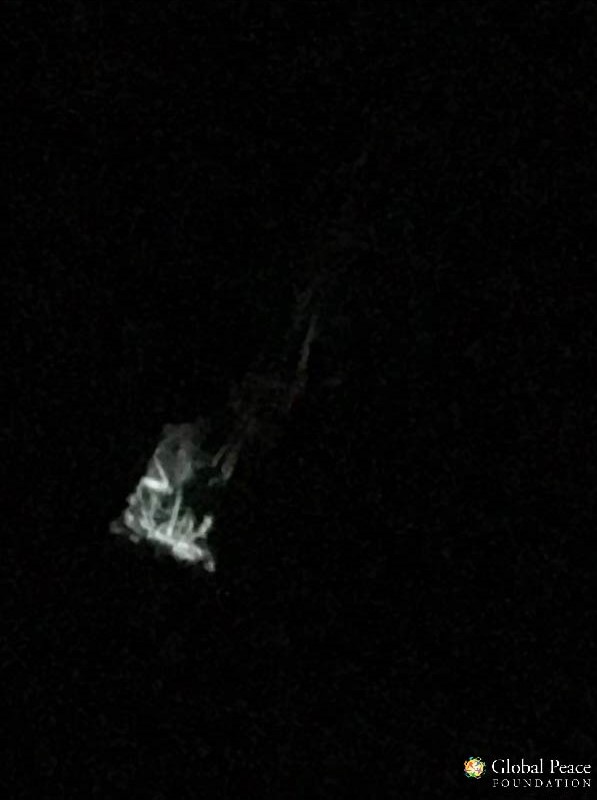 I'm glad that the pump finally works after a few tries and there is water being supplied to the village, which means they don't have to walk half an hour each day to fetch water. I appreciate the peaceful and silent drive with good company throughout the journey. All in all, it was a good trip and a great experience.
Editor's note: Taqinah is a person of few words, choosing instead to express herself through the art of photography. Check out some of these amazing photos taken by her during the trip.
Joy:
While we've been to many orang asli villages, for all of us, it was our first time staying over at one. Not knowing what to expect, I went in with an open mind and an open heart. I think the most harrowing experience had got to be the lack of (non-existence of) toilet facilities. "No spicy food, no lactose, drink less water" became my mantra for the whole time I was there. Thankfully, without much untoward incident, I managed to pull through.
The most precious memory I had was the drive deep into the jungle. As the artificial uniformity of palm trees fell away and the true face of nature emerged, I got lost in the moment. Surrounded by soaring trees swathed in morning mist, a sense of quiescence settled upon us. It made me understand why the orang asli would still choose a life here, and not out there.
Overall, it was an amazing yet humbling experience to be able to have a brief glimpse of the lives of the community we worked with for so long.
Edited by
Yong Joy Anne, Storyteller