Hey there, how are you? I assume you are in good health, so then how's life? Tough? Feeling like you just want to give up because things don't seem to work well? Have you tried trying? Which then you tend to fail and you try again and yes more failure and you start blaming on yourself, getting sad, stressed and finally you blame the god, on why only you in this very world are being tested with so many problems. Just so you know, "Do it again. Play it again. Sing it again. Read it again. Write it again. Sketch it again. Rehearse it again. Run it again. Try it again. Because again is practice, and practice is improvement, and improvement only leads to perfection." – Richelle E. Goodrich
To compare me in this situation, I'm one of you too, I give up easily but then I can consider myself lucky because from all my up's and down's my family and friends were always there for me. Why can't we stand on our own feet then, why we need too many supports? You will never know the value of your life and the feeling of others until you put yourself in their shoes. Let's see our lives then, I believe we live in a fully furnished home, where then we have our own room, we can afford buying things that we don't actually need, and then we have a loving mother, a strict yet caring father, an annoying younger sister or brother who sometimes never fail to make you laugh whenever you are feeling down. To think about it again our lives do sound perfect rite, but are we thankful for it? are we happy for it? Or do we complain all the time? Although having much freedom and facilities.
Now let's just close our eyes and imagine ourselves living in a low cost flat, quite congested, no proper facilities, when you wake up in the morning instead of enjoying the view of the mountain, trees and clouds, you can see garbage and dustbin's everywhere, accompanied by flies, cockroaches and group of rats running around finding shelter and food.
The air is polluted and smelly, that's the life of midnight football participant Naagiran a/l Krishnan. Like other kids, everyone have their own mentor in their life it's either their dad or mum, some chooses celebrities or anyone they love and comfortable with. Naagiran's mentor is his dad, as much as he loves him the god loves the dad more as his dad passed away when he was 11 years old.
"He used to bring me out for a walk and buy me things, he taught me how to play football. Whenever I fall, he lifts me up and say never give up in life, he was an amazing guy" said Naagiran.
That's what I get once I interviewed him at this program called midnight football. He is the last son from three siblings whom consist of an elder brother and sister where they both are working and supporting the family ever since the father passed away. The mum is not working due to health issues.
Despite of having all these issue that didn't stop him to pursue his dreams, which is to be a mechanic. "My mother and siblings are quite supportive they use to motivate me and help me whenever I'm feeling down" added him.
Midnight football is an ongoing program organized by The Global Peace Festival Malaysia and the Department of National Unity and Integration where their objectives is to instill positive thoughts on kids, encourage them to never give up in any situation and make them a better person for the society.
Later then I spoke to the coach of the Midnight Football where then he shared his experience training the kids, "Naagiran use to be so quiet, when he 1st joined Midnight Football he don't mingle around with other players although they come from the same school and area. He use to avoid himself having a conversation with others, but then after weeks of training and leadership talks and activities we can see him changing. He tends to participate and mingle around well with others. We can't classify a student based on their behavior, we just need to look closely to see what they want and give them the attention they need and we can see them blooming, I strongly believe everyone is special in their own ways and thanks to Midnight Football I tend to learn a lot by teaching these kids on their behavioral and attitude" Coach Ishak
When I spoke to Naagiran on what he learned over the process of joining Midnight Football, he said being a loner doesn't helps in any situation. "I learned a lot from Midnight Football, I learn what teamwork is, and everything happens for a reason, if I keep focusing on the negative parts I will not go further in life, there is up's and down's in life, enjoying every parts of it makes life more interesting. I use to complaint on why things go wrong on me, and when I don't find the right answer I tend to feel sad, but then I realized this can go on, so then whenever I feel sad, and uneasy I will release my stress by playing futsal and the feeling of winning and getting support from other teammates does cheer me up, I mean something to them, so then why should I give up?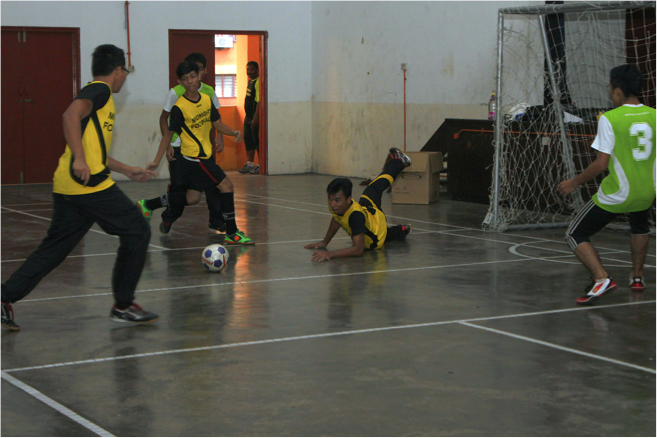 Every day in our lives we do face problems, issues and sometimes good things happen, to look upon, all of these challenges are not meant to tear us apart but instead to prepare us for something bigger and makes us stronger to continue our lives. Whenever we feel like giving up, we should always remember that there are people out there with bigger problems, where they carry a big smile on their face and never give up, because life doesn't come with a manual, unexpected thing happen and we just got to prepare ourselves to face it. By facing it, doesn't mean we are heroes or survivors but simply it's a lesson to makes us appreciate and value things better.