Midnight Football "Off the Street, On the Ball"
A Live-Changing Journey for Youngsters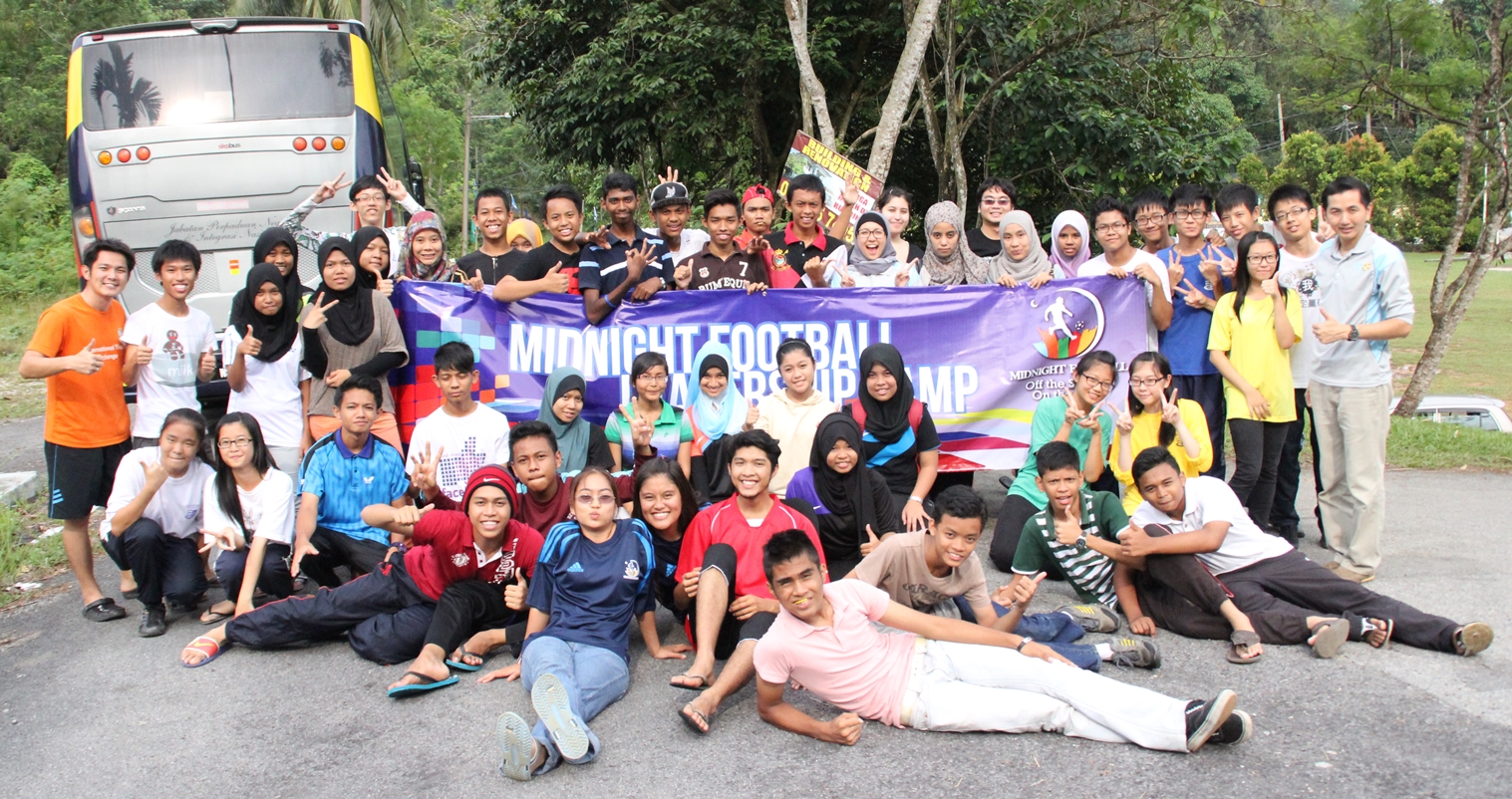 The third batch of young participants from 'Midnight Football' celebrated their completion of the 8-month long program with a "Championship Tournament and Closing Ceremony" at the futsal court at Sri Selangor Flats in Jalan Loke Yew, Kuala Lumpur recently. 50 youngsters from the low-cost flats in San Peng took part in the event last Saturday.
The Midnight Football program is organized by Global Peace Festival (GPF) Malaysia, in collaboration with the Department of National Unity and Integration of the Prime Minister's Department together with the Asian Football Confederation (AFC).
Utilizing "football" as a social tool, the Midnight Football program reaches out to teenagers at-risk of getting involved in social ills so as to empower and motivate them via various modules of the program and help them to renew and build a better and brighter future. In addition to weekly futsal trainings, the program also includes other character-building and peer-to-peer support mechanisms to guide the teenagers toward more involvement in healthy and holistic activities; at the same time, unleashing their hidden potentials.
Futsal Trainings
Midnight Football has been hailed as the first program in Asia that banks on the power of football to bring positive transformation among youths who are at-risk of getting involved in social ills. Weekly futsal trainings were conducted by a team of dedicated coaches who not only prepped the youngsters with futsal skills but at the same time, inculcating good values such as fair play, responsibility and respect.
"Losing and winning is part and parcel of life. We don't just teach them on playing football, but also their attitude on having the winning mentality, fair play, teamwork, friendship in and out of field," said coach Ishak Bin Kunju, Head Coach of Midnight Football.
Leadership Camps and Workshops
Over the past 8 months, the youngsters were brought for field trips and outdoor teambuilding programs at Broga Hill, Semenyih and Port Dickson respectively.
A 3 days 2 nights Midnight Football leadership camp was held at Outbac Broga in which the youngsters experienced outdoor teambuilding activities, heart-to-heart sharing sessions, motivational talks and engagement sessions, leadership-development modules aimed to boost their self-esteem and confidence levels.
Behavioral-profiling expert, Mr Martin Cartwright gave the youngsters a good insight on personal behavioral traits which aimed to help them to better understand themselves and to further develop their potentials during the one-day Midnight Football Workshop at Residence Desa Lagoon Resort, Port Dickson.
 "I am not a confident person when it comes to facing challenges. At the workshop, I am glad that I get to find out more about my personality and understand how others behave. At the end of the day, I learnt that everyone is indeed special in their own ways, and that we need to work within everyone's strengths and we can breakthrough as a team," said Cecilia Yap, 16 years-old, one of the participants of Midnight Football.
With the support from the National Population and Family Development Board (LPPKN), a parent workshop was held so as to facilitate better communication among the youngsters with their respective parents and elders; and to foster stronger familial bonding.
Community Service and Volunteerism
As part of the self-development and empowerment elements of the Midnight Football program, the youngsters were involved with community service projects in order for them to not only be more concerned about their local community but also to start living for the sake for others.
In conjunction with the Hari Raya festive back in August, the youngsters volunteered to clean up the Broga police station and the surrounding areas to the officers' delight. The youngsters also planned and carried out their first service project for their local community at the low-cost flats of San Peng in Jalan Loke Yew.
Parents' Feedback
 Speaking on the Midnight Football program, Puan Norazilah Bt Jamhari, mother of Muhammad Iqbal, one of the Midnight Football participants said, "Social issues are prevalent these days. I want my son to do the right thing and to follow the right path. I am glad that Iqbal took part in Midnight Football. I felt that the program has great modules that gave positive boost to the youngsters both physically and mentally. I am happy that Iqbal often came home and share with me about the places he went, the exposures that he has been getting; and lately, the good deeds that he and other kids are doing for the local community. Now I do not need to worry that he will spend his time loitering after school or getting involve in social ills."
Alice Cornwell Neowcharurn, the Director of Midnight Football program resonated strongly with the objectives and impact of the program since the commencement of Midnight Football in 2010. "They (the youngsters) just needed an opening, a platform to change for the better. They wanted to change and Midnight Football gave them a little push they needed. The transformation in the youngsters are so amazing and dazzling that it spurs me to continue organizing Midnight Football to reach out to more youngsters at-risk for them to experience life-changing opportunities!"
Speaking about this meaningful program, Dr Teh Su Thye, Chief Executive Officer of GPF Malaysia said that, "At GPF Malaysia, we are committed to raising young leaders for the future. Program like the Midnight Football offers young people a different perspective on how they can take on the world."
Sports equipment manufacturer FiGOS and Resorts World Genting has also supported and contributed to the Midnight Football program in line with their company's corporate social responsibility initiatives.