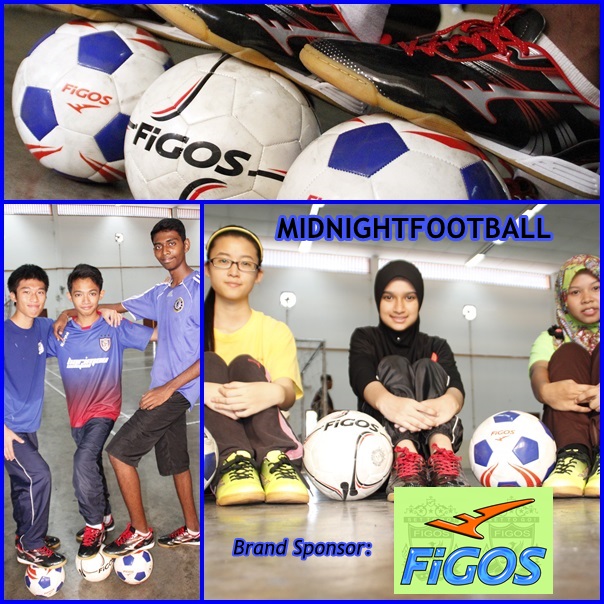 The youngsters of GPF Malaysia's Midnight Football program were in joy and delight when they received sports goodies kindly sponsored by FiGOS recently during one of their football training regime. The youngsters were all smiles as they changed into the FiGOS sports jerseys and shoes. In addition, FiGOS also sponsored footballs and shoes bags as additional gifts to the kids.
Mr Tang Kok Wai, Managing Director of FiGOS Sdn Bhd was very glad with the sponsorship to the MF youngsters in line with the corporate social responsibilities of the company. This special product sponsorship to Midnight Football program was worth RM12,000.
Speaking about this generous act from FiGOS, Dr Teh Su Thye, CEO of GPF Malaysia says, "We are very glad to have FiGOS supporting the Midnight Football project. The youngsters who are initially un-guided youths have come a long way and shown much promises through the trainings, workshops and recently they initiated their first service project for their community. We hope that they will continue to strive harder and unleash more potentials now that everyone is happy with the sports goodies from FiGOS!"
About "Midnight Football"
Midnight Football 'Off the street, On the ball' has been hailed as the first program in Asia to use the social power of football, with other peer-support mechanisms, to guide youth at-risk (aged 18-years and below) towards involvement in healthy activities. This 8 month program was jointly organised by GPF Malaysia, Asian Football Confederation and Department of National Unity and Integration.
GPFM would like to convey our appreciation to FiGOS
for this generous sponsorship 🙂
Thank You FiGOS!